New surveillance system successfully passed tests in Kazan. First system mounted in Izhevsk in test mode
Announced earlier on our web site, mono RNCam system passed tests successfully with two other vehicle control systems.Recognition Technologies Ltd presented new solution for vehicle control based on video camera with built-in computer and license plate recognition software in the autumn of 2016.
In Kazan, Republic of Tatarstan  were organized and passed comparative tests of the new complex initiated by the Traffic Police Department.
During the tests, RNCam was compared  with the SIMICON and Avtodoria video surveillance systems.
The results demonstrated during the RNCam tests, recognized as best. In the daylight hours were successfully detected 97.6% of vehicle numbers, and 96% at night time.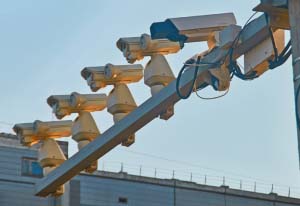 Back to the main advantages of the monoblock RNCam system:
Calibration interval for 2 years;
With the speed less than 100 km/h accuracy is 1km/h, with the speed more than 100km/h accuracy is 2 km/h;
Possibility to connect additional vidio sensors (up to 2 cameras) ;
Easy mounting and installation;
Reduces maintenance costs;
System has SI Certificate and 2 patents.