PARKNET Visual Capture of parking violations and paid management
ParkNet summary

ParkNet complex is designed to monitor paid parking lots as well as
for visual confirmation of stopping and parking violations and other
violations that deal with stationary vehicles.
ParkNet takes a picture, recognizes the vehicle number plate,
generates a data package with information on the event date, time
and location and transfers it to the data processing center via
wireless communications.
That data package is used to generate the penalty notice, which is
sent to the vehicle owner.
When a violation is detected depending on the situation inspector
may use ParkNet to send a message for compulsory towing of
violator's vehicle. While taking a picture for violation confirmation the
number plate is checked in the search database for stolen vehicles.

ParkNet is designed for city services engaged in traffic management
and monitoring of paid parking lots. ParkNet complexes can also be
used by road police units and for residential area control by district
police officers.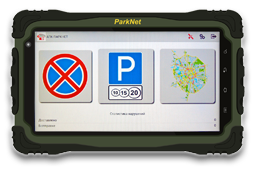 External view and components of ParkNet

The complex consists of the photo device which is a protected mobile
computer with special software and the remote Data processing center
with software recognition module.
The complex uses the recognition algorithm of AvtoUragan system to
recognize vehicle number plates.

ParkNet features

Basic operations are performed automatically:
- number plate recognition;
- identification of violation location and time using GPS/GLONASS;
- identification of address according to the coordinates of violation
location.